Last year I finally decided to do something about my imposter syndrome. I picked up the most recommended book I had heard of "The Alter Ego Effect". Little did I know that once I had finished reading it, I would have come to the conclusion that I don't really have imposter syndrome (though sometimes suffer from self doubt) and that this book would have helped me greatly.
Sketchnote summary of the Alter Ego Effect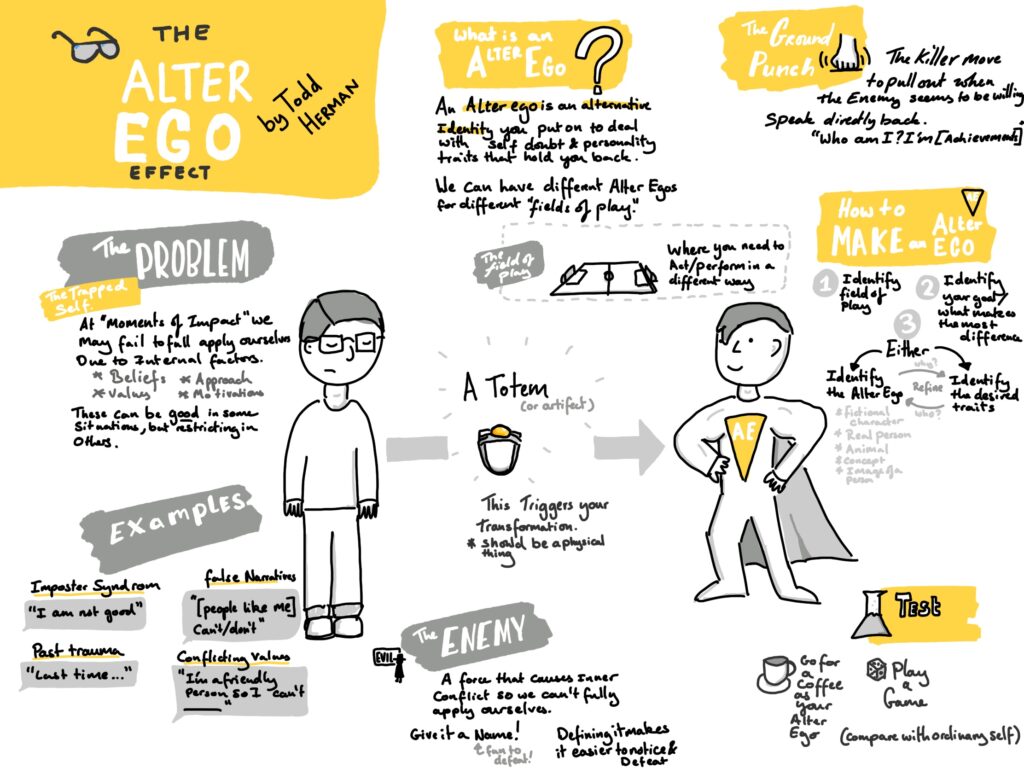 Core Idea
You should use a different persona or "Alter ego" for different areas of your life to help you perform at your best. This helps you have emotional distance and get over the hangups you might have with acting the way you need to be the best in this area.
Key concepts
Fields of play
Ordinary world & Extra-ordinary world
The trapped and heroic selves
Alter egos
The enemy
totem or artefact
Why do we fail to live up to our potential?
There are always moments when we fail to perform at our best or don't fully apply ourselves to a task. Sometimes it comes from an external source such as an incapacity but internal forces can also hold us back.
These internal issues can be far more frustrating as they can be both more opaque and/or easily preventable. And yet, they have a nasty tendency of sticking around and become entrenched as part of our identity.
This is how a sport person can become known as "skilled, but missing the killer instinct" or a employee
Fields of play
The athletes field of play is the arena where they test their skill. This is the time and place where their performance is measured. But all of us have different areas of our lives where our performance matters. It might be in how we relate at home with our families, or how we do our core jobs at work. We may even require very different skills for different tasks we have at work (such as leading a meeting vs creating a report).
Each different arena of life is a field of play with its own criteria for success. What make us excel in one field may hold us back in another.
This is where an alter ego can come into play. An alter ego allows us to apply the right traits in one area of life, and apply different traits in another without any conflict.
The Ordinary vs the Extra-ordinary world
There are two worlds, the ordinary and extra-ordinary world.
The ordinary world is full of negative self-talk and a destructive place. It's the place where most of live, listening to the internal monologs that say we shouldn't, can't and won't do what we long to. That's why Todd says our "Trapped self" live here. This is the version of us that fails to perform, that is held back.
The Extra-ordinary world is a positive environment and is an enjoyable place to be. It's a place of flow where we get lost in the task without conscious thought. This is where the "heroic self" lives: the version of ourselves that fully applies itself to the task.
To create an alter ego, we need to define what our heroic selves look like from the deep levels of our beliefs up to our core actions. It can be helpful to both identify when things have gone well and how we acted differently then, as well as when they went badly and the negative beliefs, thoughts, feelings and actions we want to avoid.
The Enemy and Negative Self-talk
"The enemy" is the personification of our negative self talk. It is the dark voice that says we can't, shouldn't, won't or don't deserve to do something. It can appear in four common ways.
Imposter syndrome – the phenomena that makes experts feel worried they will be found out at fakes.
False narratives – stories we believe that prevent us from doing something. I.e. "[people like me] don't/can't do this."
Past trauma – when past events cause us to worry about next events. For example, "last time I failed to… I bet it will happen again."
Conflicting values – some of our values may hinder ourselves in other fields. For example, if we value justices, we may struggle to win in competitions.
By identifying an enemy (giving it a name) and making it an external force, it provides us with something to fight again that is outside of us.
Creating an alter ego
This is an iterative process and may follow different paths usually refining as it goes along. However, the first steps are consistent.
1. Define a field of play
You need to pick an area of your life to build an alter ego in. The largest divisions are home and professional but you can narrow either of those down to a particular relationship or activity.
2. Identify the goal and key actions
What do you want to achieve in this field of play? What would success look like in this area? With that identified, break down the key actions that bring that success as well as the underlying thoughts, beliefs and values required to create those actions.
Either 3a. Identify your desired traits
With your goal and attributes identified, you can list out the traits you need and what they look like. You should describe them as vividly as possible. If you start with this step, move to the next one, if you start with the next one, come back to this step.
or 3b. Identify an alter ego
Sometimes it's easier to jump to an alter ego straight away as your subconscious resonates with someone or something. If that's the case, it's worth going back to the previous step and identifying the attributes that make this alter ego a good choice.
Some possible candidates for an alter ego include.
Real people
Fictional characters
Animals
Concepts
Images of a person
Combinations (merging aspects of two previous items)
Activate with a totem or artefact
A totem or artifact helps you to "activate" (put on the personality) of your alter ego. It should be a tactical item that you can touch and can even have a ritual associated with it to help "get in the right mind".
This works through "enclothed cognition" where we take on a trait due to associations with an object. An example is glasses which people perceive as for smart people, so we feel and act smarter with them. Or wearing a suit often causes people to be more confident.
When our totem matches our alter ego, it helps enrich that association.
Grab a copy of The Alter Ego effect
If this summary has interested you and you'd like to learn more, use the button below to get your own copy so you can work through the whole process.