Sketchnoting under pressure can be a real challenge. Having ready to go ideas and templates can help you make something good, quickly, without thinking. You can use templates for the whole sketchnote, but you can also use templates for part of the sketchnote. Recently I came up with a simple stock sketchnote header template that has helped take decisions out of my sketchnoting process and raise the quality of sketchnotes I can create under time pressure.
What should you include in your sketchnote's header area?
Depending on the topic you are sketchnoting, you may want to include or exclude certain elements. For example, a date may be important to include for a sketchnote on a talk, but not as useful for a sketchnote on a book.
Title or topic
A picture of the speaker(s) or author(s)
The name of the speaker(s) or author(s)
The title of what the topic is connected to. (The event, a sermon series, book)
A logo (of the event, or the speaker,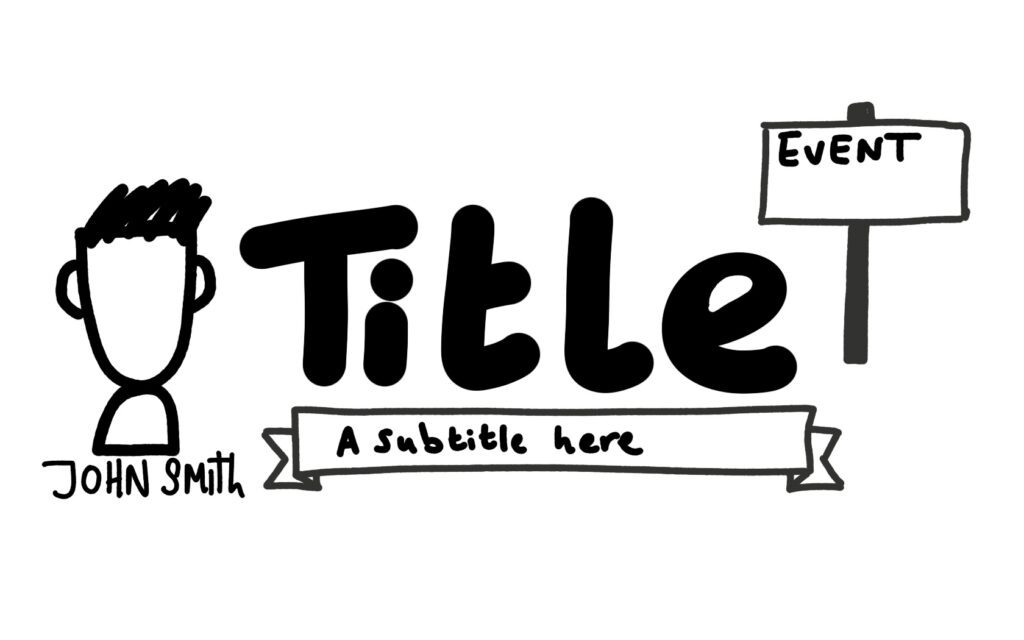 What header text should you use?
There are lots of different types of text you can use for your header.
The simplest is to use a "heavier" font, or bold text. This will make it stand out and be clearly legible.
However, depending on the topic, you might want to use a font that is
more elegant
more futuristic
more formal
more causal
There is a simple trick you can use if you aren't sure. By simply placing a basic single line of your text, you can then embellish it later.
Should you always add a portrait?
A portrait can really had character to a sketchnote. But adding a drawing adds pressure for those of us who are less confident with drawing. One option is to add a simple outline in the moment, and you can add details later.
When it comes to actually drawing the portrait, focus on the key details and characteristic attributes of the person you are drawing.
How should you arrange the elements in your header
I recommend setting keeping your title text as the largest element, with a portrait or logo to the left of the text. You can then place any other smaller or less important elements under their respective parts.
So you can place the name of the speaker or author under the authors picture, and the date of the event under the title.
Ready to use a stock sketchnote header template?
You don't have to stick ridgedly to your sketchnote header template, and you can even create one before the event if you are live sketchnoting, or afterwards to help you avoid time pressures.
Do you use a different sketchnote header template? Let me know in the comments.